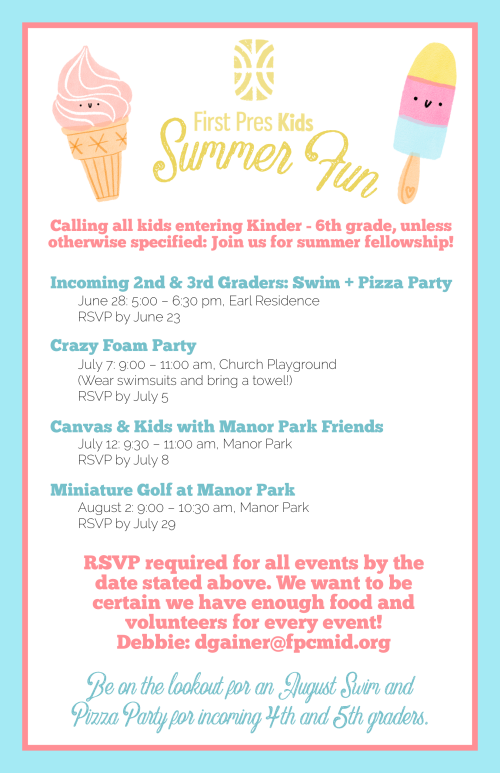 First Pres Kids
Sundays | 9:15 a.m. or 11:00 a.m. (Resumes August 21)
Designed for kids PreK4-5th Grade, First Pres Kids is a dynamic discipleship ministry designed to engage our children in worship, Word, and prayer on Sunday mornings. Children will attend the first part of the worship service with their parents, and then exit the Sanctuary together to have a time of children's worship and a Bible lesson. PreK3 children and younger can go to the nursery for age-appropriate lessons and activities. Please don't hesitate to reach out to Debbie Gainer, our Director of Children's Ministries, with any questions.
Children's Choir
Wednesdays | 6:00 - 7:30 p.m. (Resumes August 24)
The Children's Choir Ministry is committed to helping children learn to praise and pray in new and exciting ways! Each week we praise the Lord through our choir songs, and we talk about the importance of memorizing Scripture through music. The children engage in singing and dancing to the newest praise and worship songs as well as our favorite old hymns and choruses. We emphasize the importance of each child developing a relationship with the Lord. We often divide up into small groups with the choir leaders praying for and with the children. The children are excited to share their experiences of answers to prayer! During the school year, we sing monthly in the 11:00 worship service, and we present two Bible story musicals a year. We truly feel that the Lord is moving in a mighty way through the lives of our children. Through worship, Word, and prayer, we are all being drawn into a deeper relationship with the Lord.
FALL 2022 CHOIR:
Musical: Close to Jesus
August 24 - Choir Begins

No choir November 23 (Thanksgiving Week)
December 3 - Saturday Morning Musical Rehearsal
December 4 - Christmas Musical, 5:30 p.m. in Sanctuary.
After the musical, choir will resume in January.
PICKUP AND DROP-OFF INSTRUCTIONS:
PreK4-Kinder:

Parents, please bring children inside to Koinonia Room by gym. A parent will also need to pick them up from Lynn Hall. The Texas Ave Courtyard entrance will be most convenient for you and will be open for both drop-off and pickup, but will be locked for safety during choir.
1st-5th grade:

Parents, please come to the Illinois Street Gym Doors. You can use the drive-thru line to drop off and pick up your children.
If you're

arriving late or need to pickup your children early, the main Texas Avenue Reception doors will remain unlocked all evening.
HERE'S WHERE OUR CHOIRS WILL BE MEETING:
CELESTIAL CHOIR

(PreK4) - Koinonia Room, Inside Gym
CHERUB CHOIR

(Kindergarten) - Koinonia Room, Inside Gym
ELEMENTARY CHOIR

(Grades 1-3) - Lynn Hall
JUNIOR CHOIR

(Grades 4-5) - Lynn Hall
QUESTIONS ABOUT CHOIR?
Sunday Children's Message
Sundays | 9:15 a.m. or 11:00 a.m.
Just like Christ called all children to Himself, we spend time each Sunday morning during our 9:15 a.m. and 11:00 a.m. services teaching children to draw near to God. The children's message will focus on that day's Bible lesson at First Pres Kids. We're always looking for members of our congregation to help deliver these messages, so if you'd like to help, contact or sign-up below.