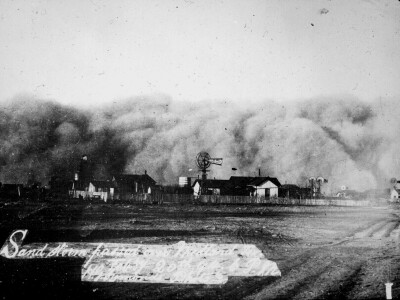 In December 1885, First Presbyterian Church was formed as a ministry to the new town of Midland. Early church members noted that Midland was "western, awkward, and sprawling, with streets deep in dust." First Presbyterian began with a dozen cattle ranchers and farmers and met for worship just once a month. Those first three years proved to be incredibly difficult and it's been said that "not a drop of rain fell" from 1885 to 1888. That didn't hold back their worship, though, as they celebrated their first communion together in 1886. However, without a building of their own and because so many had moved from Midland during the drought, the church dissolved in 1897.
In August 1899, a lot was purchased for just $200 by faithful members of First Presbyterian and a church was erected by late November. The First Presbyterian Church of Midland was reborn with sixteen members sitting in solid oak pews, worshiping together for the first time in their new church building. From 1910 to 1925, the church had ten pastors and went through considerable ups and downs. God remained faithful, though, and kept the doors of First Presbyterian open for worship.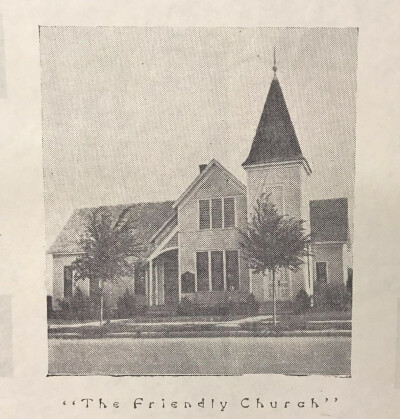 In 1926, with just seven members, First Presbyterian and Midland began to grow alongside one another with the discovery of oil beneath the soil. In 1937, a new church building was built at the corner of West Texas and A Street, where our current church building remains. Through two world wars, the church remained engaged in worship each Sunday and formed several organizations in service to the Midland community during those trying times.
In the summer of 1949, the church building expanded tenfold to accommodate the growing body of worshipers. In 1950, First Presbyterian planted St. Andrews Presbyterian Church and, one year later, planted Westminster Presbyterian Church. By 1959, they expanded their own building again to build much of the church we still have today, though it almost burned down in 1979! By the early 1960s, the church had grown almost over a hundredfold from what it had been in the early 1930s.
The next era of the church saw the people of God responding to the crises of their day with tremendous courage. In 1963, First Presbyterian Church and other churches in the Presbytery helped lead the discussions promoting desegregation in the denomination and in their communities. Emphatically, the elders of the church published this within their Worship Directory in 1964: "No one shall be excluded from participation in public worship in the Lord's house on the grounds of race, color, or class." During those same years, First Presbyterian turned it's focus toward the flourishing of Midland's most vulnerable populations - founding and working within programs for the physically and mentally disabled.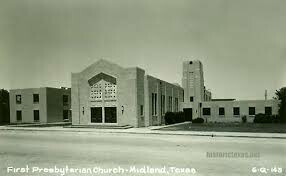 During the '80s and '90s, First Presbyterian endured new challenges. When oil prices crashed in 1986, the church responded with generosity. They began a fund, the Jubilee Fund, which to this day exists to support members of the congregation who are in financial need. Money set aside for benevolence in the community, while it could have understandably been withdrawn, was never cut or reallocated.
As recently as 2016, our church went through another major change with our denominational shift to ECO (Covenant Order of Evangelical Presbyterians). We felt God was calling us to ECO because of a shared passion to be faithful to Scripture and see Christ glorified in his Church.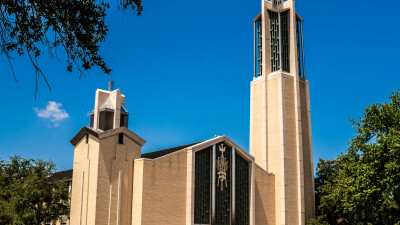 First Presbyterian continues to identify as a church in the city, of the city, and for the city. Over the last few decades, the church continues to grow in its outreach to Midland and to the world. Today, we have over 80 mission partners in the community and around the world. Our hope is that we will always be a church rooted deeply in our identity in Christ so that we can continue to share his love and hospitality with all people.