LENTEN SEASON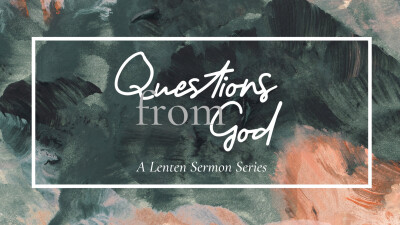 We all have our questions of God... Why does God allow suffering? Will God answer my prayer? Is God even listening? Why does God allow evil? And of course, there are the "origin" questions of how all things, including us, came into being, and more. This season of Lent, we are delving into a fairly radical reorientation of the questions that God asks of human beings.
It stands to reason that if we were to orient our lives primarily around the questions that God asks of us, we would be changed. During Lent we will be looking at eight questions that God/Jesus asks of us. Each of these questions deserves a slow answer! Most of the questions challenge us at different layers or arenas of our life. It will take some time and the Holy Spirit's help to unpack what is going on, not just on the surface, but in our heart and soul.
QUESTIONS FROM GOD TO US:
Where are you?
Where is your brother?
What do you want me to do for you?
Do you want to get well?
Is it right for you to be angry?
Who do you say I am?
Can you drink this cup?
What good will it be to gain the whole world and forfeit your soul?
LENTEN DEVOTIONALS
During Lent, we're using this devotional as a church community, written by members of our church family to go along with the sermon series. Each week offers a single reflection written on the question at hand, accompanied by scripture passages to read each day of the week.
---
HOLY WEEK SCHEDULE
We invite you to walk with us and remember Jesus' triumphant entry to Jerusalem on Palm Sunday, His crucifixion on Good Friday, and His resurrection on Easter Sunday. Nursery is available for all worship services, except the sunrise service on Easter morning.
SUNDAY, APRIL 2 - PALM SUNDAY
Services at 9:15 and 11:00 a.m. | Children will process with palms at the 11:00 service.
WEDNESDAY, APRIL 5
No Gathering meal this week. Children's Choir won't be meeting, but Animate and HSM will meet together for dinner and an Easter Egg hunt from 6:00 - 7:30 p.m.
THURSDAY, APRIL 6 - MAUNDY THURSDAY
6:30 p.m. in Sanctuary | A service to remember Jesus' last supper with His disciples
FRIDAY, APRIL 7 - GOOD FRIDAY
Noon in Sanctuary | A service to remember the day Jesus was crucified
SUNDAY, APRIL 9 - EASTER SUNDAY
Sunrise Service | 7:00 a.m. on the Plaza (No nursery available)
Contemporary Service | 9:15 a.m. in the Chapel
Family Easter Celebration | 10:15-10:45 a.m. in Children's Ministry Space
Traditional Service | 11:00 a.m. in the Sanctuary
On Easter, we will not have First Pres Kids during worship services. Nursery will be provided, but older children will remain with families in worship.