We're celebrating our graduating seniors! Meet the FPC Class of 2022: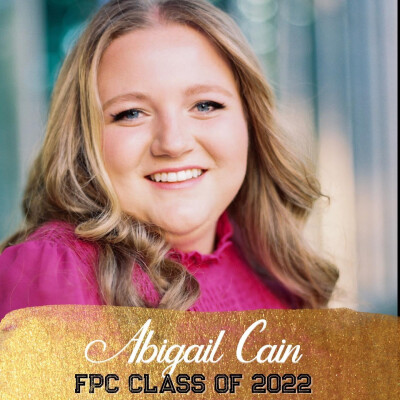 Abigail Marie Cain
Miss Abigail Marie Cain is the daughter of Paul and Teresa Cain and the granddaughter of Donald and Joan Henager and the late Burton and Darlene Cain. She is a senior at Midland Classical Academy, where she will graduate with 30 hours of credit from Midland College with a 4.0 GPA. Abigail is a Senior Assistant for a Great Books and Fine Arts class at MCA and has been selected to mentor younger students as a Round Table Leader for the past two years. She has participated in powerlifting for the past four years and has served as "VIP" in yearbook for the past six years. Abigail has volunteered over 100 hours at Midland Memorial Hospital, Breaking Bread Ministries, Meals on Wheels and Family Promise. She has also attended Laity Lodge Youth camp since third grade and served for than 500 hours at Laity Lodge Youth Camp last year, alone. She has been an active member of the Midland Symphony Guild and was presented as a Senior Belle in February. Abigail will be attending Texas Tech University, where she is a recipient of the Presidential Merit Scholarship and will pursue her goal as a pre-law student majoring in political science.
---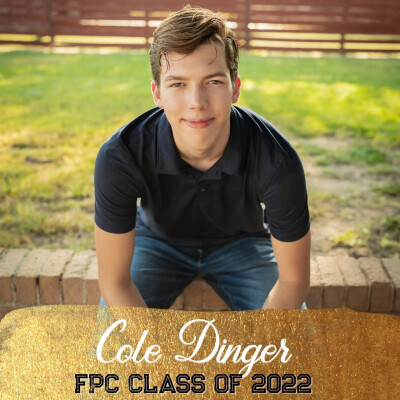 Cole Dinger
Mr. Cole Allan Dinger is the son of Michelle and Jeff Dinger and brother of Camille and Blair. Cole will graduate with honors from Trinity School of Midland where he is co-captain of the cross country team, co-head prefect, president of the Upper School band, a two-year officer of the French Honor Society, and a member of the speech and debate team. Cole loves spending his summers at Laity Lodge youth and family camps where he was a camper, crew member and will return this summer as a staff member. Cole plans to attend Texas A&M University and will major in history and minor in film.
---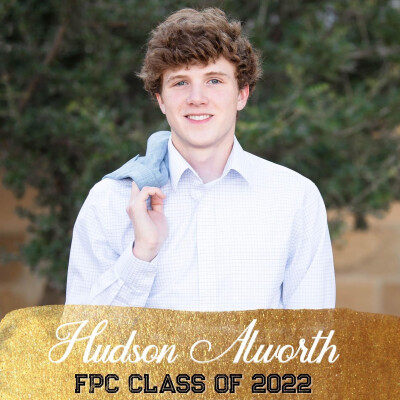 Hudson Alworth
Mr. Hudson Andrew Alworth is the son of Dr. Melissa Alworth & Mr. Dwight Alworth. Hudson is graduating from Trinity High School where he has played baseball for 4 years. He has been an active member of First Presbyterian Church, involved with the youth group, Sunday school and has gone on two church mission trips to El Progresso, Belize. Hudson loved forming friendships with the school children in El Progresso. Hudson will be attending The University of Oklahoma in the fall with plans to study electrical engineering.
---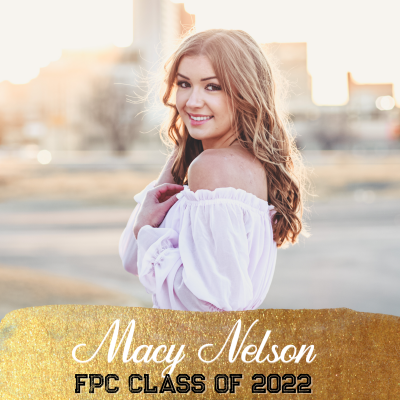 Macy Nelson
Miss Macy Hope Nelson is the daughter of Scott and Mindy Nelson, sister to Brittany Nelson, and granddaughter of Pauline and the late J.D. Nelson and Carl and Joyce Timm. Macy is a senior at Midland Christian School and will graduate with honors as well as 15 hours of dual credit classes at Midland College with a 4.0 GPA. Macy serves as Historian and is a member of National Honor Society. She is currently the captain and a 4-year letterman of the varsity tennis team. Macy will be attending Texas Tech University in the Fall, where she is a recipient of the Presidential Merit Scholarship and will pursue a degree in Accounting.
---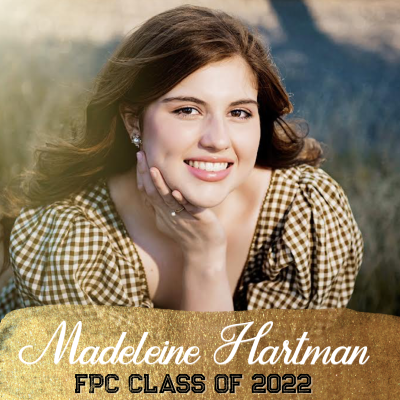 Madeleine Hartman
Miss Madeleine Olivia Hartman is the daughter of Elizabeth and Miles Hartman, and the late Natalie Hartman. She is the granddaughter of Mr. and Mrs. Doug Hartman, Cindy McMaster, and Mr. and Mrs. John Braun. Madeleine is a senior at Trinity School of Midland. She is a three-year varsity cheerleader and a four-year member of the Trinity School choir. She is a recipient of the 2019 Trinity Charger Alliance Fine Arts Scholarship Award and was a member of the 2018 TMEA All-Region Treble Choir and the 2019 and 2020 All-Region Mixed Choirs. Madeleine has been involved in choral singing for ten years, taken private voice lessons for seven years, and has performed in school musical productions for four years, earning the lead role her senior year in Little Women. She had the honor of performing in E'lisr d'amore, an opera hosted by the Permian Basin Opera. In her spare time, she enjoys singing, writing stories, and hanging out with friends. After graduation, she plans to pursue her love of storytelling and major in English at Trinity University in San Antonio.
---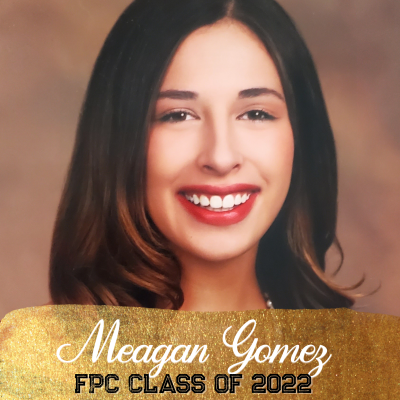 Meagan Gomez
Miss Meagan Gomez is the daughter of Britney (FPC's ECEC Assistant Director) and Robert Gomez. Meagan is a senior at Midland High School where she is a three year letterman of the high school's drumline and varsity percussion. She is a participant in the Texas University Interscholastic League for science, social studies, spelling and vocabulary, placing in the top three for each category. In addition to her studies at Midland High, Meagan attends Midland College's medical program of study and health sciences and will graduate as a certified emergency medical technician. Meagan plans to attend UTPB in the fall of 2022 where she will pursue her passion for helping others and study nursing. Megan loves children and would like to work with infants and children after graduating with her BSN. Meagan's mom said, "Meagan, since the day you were born you have blessed us with your light and love. We are so proud of you and most of all your steadfast trust in our Lord. We look forward to seeing His plan for you unfold. Congratulations, we love you!"
---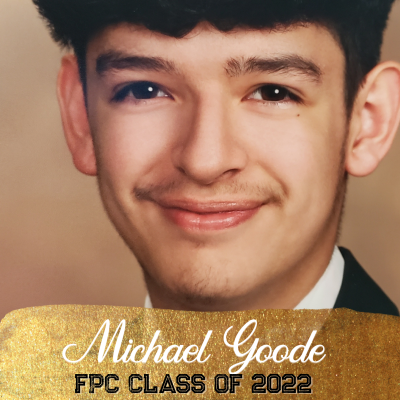 Michael Goode
Mr. Michael "Mikey" Alexander Goode is the son of Mike and Evie Goode. (Evie is FPC's Operations Coordinator.) Mikey is a senior at Midland High School. Mikey has participated in band for 6 years, spending 4 years on the MHS drum line, 2 years as the center snare, and 3 years as a jazz band member. He's gone to state for his solo for 4 years and as part of an ensemble for 2 years and has been part of all-region and all-area bands throughout his high school career. Mikey will be attending UTPB in the fall, where he plans to pursue a degree in accounting or business. Evie said, "Mikey, we are so proud of you and can't wait to see what God has for you in the future!"
---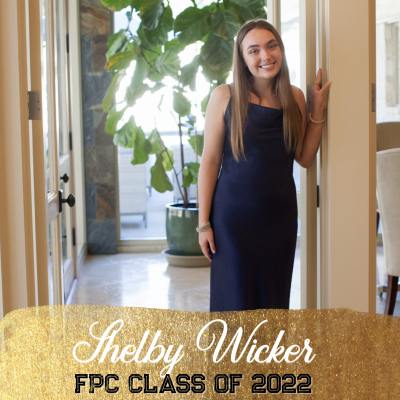 Shelby Wicker
Miss Shelby Katherine Wicker is the daughter of Melissa and Cody Wicker, sister to Dub Wicker and granddaughter of Donna Gore and Phil Ellis, Jeanie and Bob Wicker, and Melinda and Ron Collins. Shelby is a senior at Midland High School and will graduate in the top 10% of her class. In school, she is an academic letterman, Junior Academic, and earned the Outstanding Overall Student and Top Dawg Award from MHS. Additionally, she is a three-year varsity tennis letterman and one-year JV tennis letterman. Shelby is a member of the National Honor Society and participates in the Model Organization of American States. In her free time, she enjoys playing pickle-ball, hanging out with her friends and Young Life. She is currently working for Rise Real Estate Group. After graduation, Shelby plans to attend Ole Miss and pursue a degree in Business Finance/Real estate.
---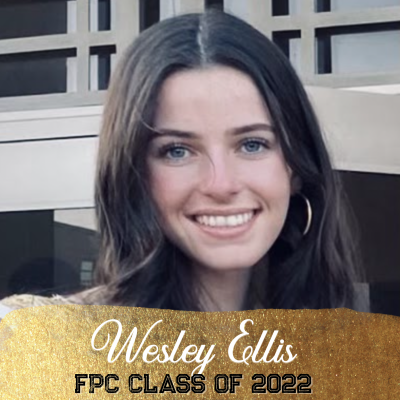 Wesley Ellis
After graduation from Midland High School, Wesley plans to attend UTPB in the Fall, major in kinesiology, then pursue a Master's in Physical Therapy degree. Wesley played volleyball at MHS and was involved in Students in Philanthropy. She stays busy by working at Sgt. Pepper's and as a regular babysitter. Wesley attended FPC CDC, participated in choir and junior high youth activities, was confirmed, and travelled to Belize for the church mission trip during spring break for two years. Wesley and her parents are very grateful for all the wonderful friends at FPC who have encouraged, nurtured, and loved her.