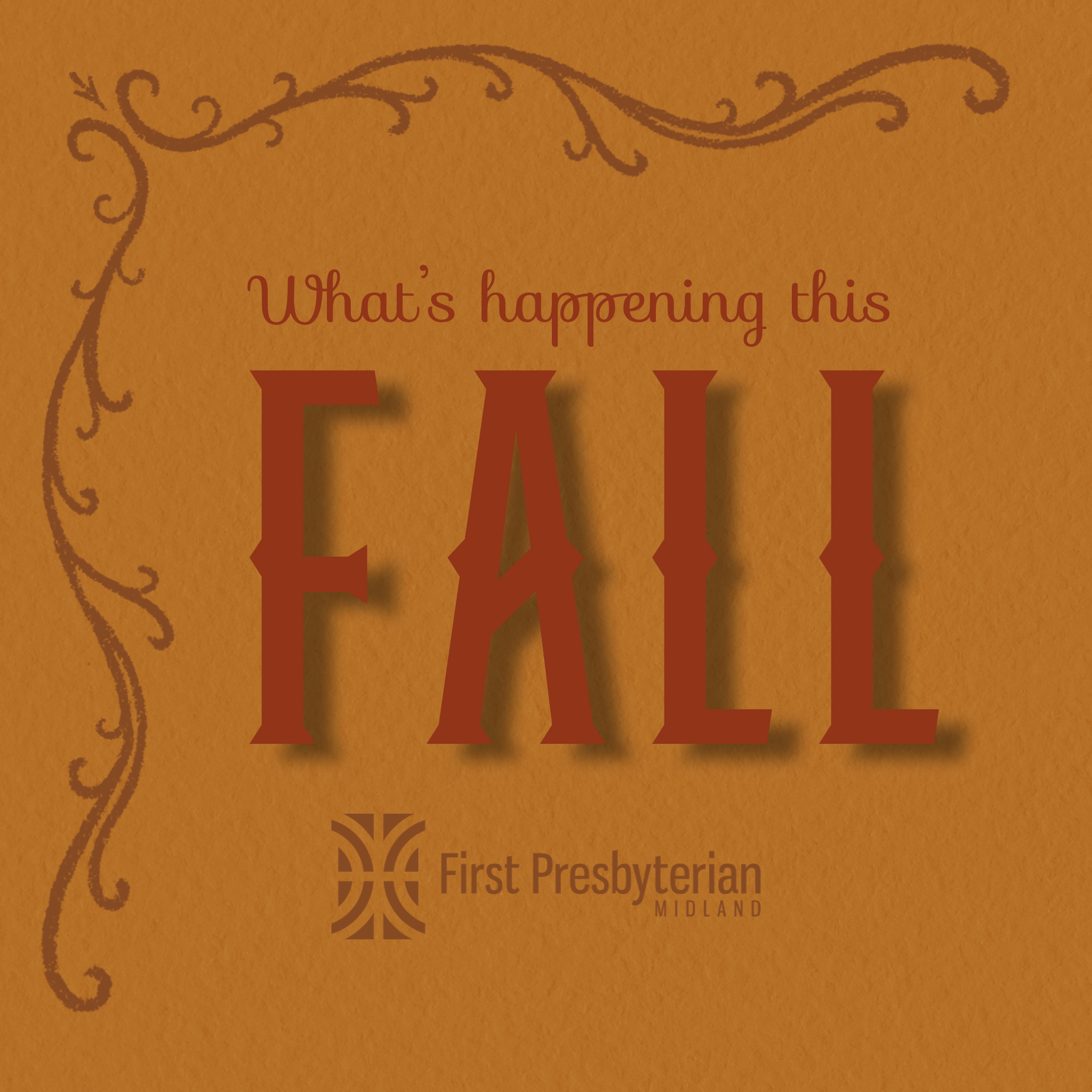 Get Involved
07.29.22

|

First Presbyterian Church
Sundays
First Pres Kids resumes during our 9:15 and 11:00 services. Contact Debbie ( ) if you can be involved!
Covenant Class | Join us starting Sunday, August 27 on Sundays at 9:30 a.m. in Room 216 as we embark on a study of Galatians, the ninth book of the New Testament in which Paul writes to early Christians in Galatia. Our rotating slate of teachers include Glenn Rogers, Terry Gilmour, Debbie Reese, Tom Turner, and Lynn Durham. Come for the lessons, the fellowship, and a freshly-baked sweet treat!
Discipleship Training Cohort | 9:30 a.m. in the Community Room: We will be offering a 10-week cohort that prepares us to form, equip, and send disciples who make disciples. Join us in this interactive and conversational group that will challenge us all. Contact Pastor Charlotte ( ) for more details.
Beginning August 28 HSM (High School Ministry) will meet at 6:00 p.m. in the Youth area for dinner, worship and small groups. Student Ministry Kickoff Party is Wednesday, August 24 at 6:00 p.m. Contact Nicole Brown ( ) for details.
Wednesdays
Come to the Quiet will resume on Wednesday mornings in the Chapel at 7:30 a.m.
Our Wednesday night Gathering Meal will resume at 5:15 p.m. in Lynn Hall.
All PreK4 (must be 4 years old by September 1, 2022) through 5th grade students are invited to register now for Children's Choir, which begins August 24 at 6:00 p.m. in Lynn Hall.
Our Middle and High School Ministries will have a combined kickoff party on August 24 at 6:00 p.m. Moving forward, Animate will continue meeting on Wednesdays and HSM will begin meeting on Sundays at 6:00 p.m. Contact Nicole Brown ( ) for more details.
Our Sanctuary Choir has already resumed after its summer break. The choir is open to all singers, 9th Grade and up, who wish to share their gifts in God's praise. Practice is Wednesday evenings at 7:30 p.m. in the choir room. Contact Greg Pysh ( ) for details.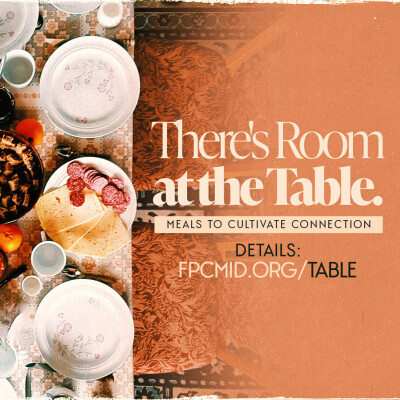 Adult Discipleship Opportunities
Adult Discipleship Groups | We want you to experience the beauty and magnificence of God in community. These groups will help you become aware of God's constant presence, dive into scripture, develop spiritual practices, and share your transforming life with others. We have several groups that will be meeting at different times throughout the week this fall. We have CoEd, men's and women's groups. Contact Pastor Charlotte ( ) for details.
Immeasurably More Women's Bible Study | Starting on Wednesday, September 7 from Noon-1:00, Kate Beal will be teaching Curating Our Hearts & Homes for Christ. Nursery and lunch available. Learn more and register now.
First Ladies Luncheons |

We invite all women to join us on

Wednesday, September 21 at 11:30 a.m. in Lynn Hall

for lunch and the opportunity to hear Pastor Steve share some of his personal story and faith journey. Please e-mail

to register; lunch is $15 at the door and nursery is available.

Men's Ministry | Beginning Tuesday, August 30 at 11:30 a.m. in Lynn Hall, our new men's ministry will host monthly lunches with speakers from our church and community. Cost is $10 for lunch. Learn more and register now so we can get a correct food count.
Adult Confirmation Class | Many of us have been followers of Jesus since we were young, but perhaps it's been a lot of years since we stopped and considered what that means. Join us this fall for an adult confirmation class. Following the outline of our ninth grade confirmation class, we'll be gathering to discuss the foundations of our faith, what Presbyterians believe, and what can happen in our life when spiritual truths move from mere "Sunday School" answers to the animating principles in our everyday lives. Starting Wednesday, September 7 at 6:30 p.m. in Room 216

. Contact

Pastor Charlotte

for more details.
Discover First
This class is for those interested in becoming Covenant Partners of First Presbyterian Church. It will meet on two consecutive Wednesday evenings, August 24 and August 31 at 6:15 p.m. in the Children's Chapel. Nursery available for ages 6 months to 5 years. Contact Carrie ( ) to register.
Other Important Dates